Message from the President
Born in Ishigami, the hometown of ume, I have been involved in ume cultivation since I was small. I grew up experiencing the color of the grass, the scent of the soil, and the sound of the mountains. In my life with ume, there is not a day that goes by that I do not feel gratitude for this land that the gods have given to us.
The more globalized the world becomes, the more deeply we at Hamada dig our own feet in the ground.. This awareness is reflected in our motto, "From soil building to your hands."
We strive to bring "beautiful" products to the dining tables of Japan. In addition, as a company rooted in the community, we will continue to produce ume in order to contribute to the further development of the "Ume-no-Sato" village that our predecessors created.
We look forward to your continued support and guidance.
Representative Director Hiroshi Hamada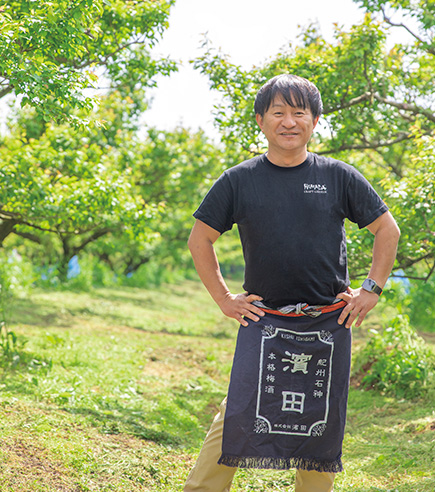 The Ume Village, Ishigami
Wind from the ocean.
Light from the sky.
Ishigami, the beautiful ume village.

Ume cultivation began in Ishigami Village during the Edo Period (1603-1868). Until then, the area was thought to be a barren mountainous area, but it gradually became clear that it was suitable for ume cultivation. The Kuroshio wind, which contains many minerals, blows from the sea, and the mountains, including nearby Daijamine Peak, catch it. Combined with the abundant sunlight and well-drained soil, we can only say that the ume must have chosen Ishigami. They are nurtured by the abundant environment, picked one by one by hand, pickled in salt, dried in the sun, and seasoned. This is how Ishigami's signature umeboshi are made. In recent years, we have established our own cultivation method called "Kojo Cultivation" and focus on organic cultivation to ensure not only delicious taste, but also safety and security. We are always grateful for our blessed climate, and we continue to work on our umeboshi today with the idea of "from soil building to your hands" in mind.